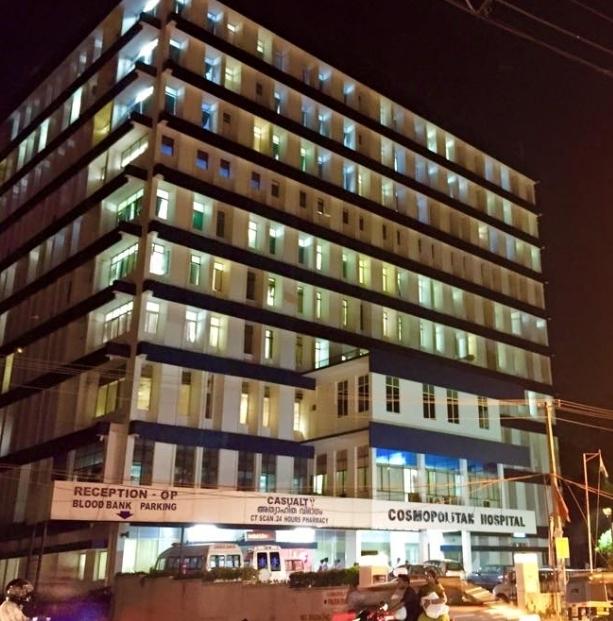 37 Years of Excellence
The Cosmopolitan Hospital, started in 1982, is a 360-bedded Multi-specialty hospital located in Trivandrum, the capital city of Kerala, India.
Cosmopolitan Hospital is the result of a far sighted vision of the Late Dr. M. R. S.Menon, with the dedicated support of the late Dr. M. R. P. Menon, the Late Mr. T. Jacob and the late Mr. M. M. Mathew who ensured the success of this venture.
Started in 1982, today it caters to over 300,000 patients every year providing high quality medical care through a dynamic team of more than 100 doctors supported by qualified and experienced medical and paramedical staff.
Hospital having very experienced and sincere doctors and well supported by other medical and paramedical staff.You can go to this hospital with complete confidence.

The hospital is one of the oldest institutions in the city for health care in the private sector. They have almost all departments for consultations. They also have a 24 by 7 casualty service. The charges are reasonable also. The location in the center of pattom makes it easily accessible for anyone.The doctors are qualified and well behaved also./em>

Two important aspect required in a hospital is doctors and nurses. Both were exceptional. Never received such a friendly treatment from any other hospitals. Thank you so much for the crew.

Nurses were exceptionally great.They really resembled angels;caring,pacifying and patient.

Thank you so much for the wonderful care and support

Satisfactory.All the sisters assisted were motherly. They deserve much appreciation

Very good opinion about the hospital. Especially doctors, sisters and cleaning staff

Overall,very high opinion about the hospital.

Special word of thanks to all nursing staff and doctors for their dedicated service.

Received appropriate facilities and services. Feeling happy.

Timely involvement of doctor and staffs needs to be appreciated

Care and behaviour of nursing staff is highly commentable. Please keep it up.

The treatment and advice provided by my doctor was very satisfactory. Because of this my illness has reduced a lot. Thank you.

One of the Retro hospitals in Trivandrum from the late 70's, which was started by a group of retired doctors from the Medical College of Trivandrum. Provides good facilities for the patients with very well maintained and healthy system of medical treatment surrounding.

We specially thank the concerned doctor (who immediately made the diagnosis and started the treatment) and all other associated staffs. We are thankful to this hospital.

From my experience I feel that by the loving care of the doctors and other staffs 50% of a patient's illness can be cured. This was my experience I sincerely pray to God to help you to provide  such good service to all patients in future also.

The service provided by nurses and doctors in theatre needs to be appreciated.

I must appreciate your hospital activities such as administration, behaviour and responsibilities of staff in work entrusted to them. Keep it well. Thanks!

A good hospital with very experienced doctors , para medical staff.Ample parking facilities , affordable rooms , reasonably priced and good canteen facilities .The only negative part is that they don't have a proper appointment system. An ideal hospital for people who are concerned about their hard earned money- since the Charges here are very fair !!!!.

Behaviour of nurses was good.

All the services provided from this hospital were good.

I am fully satisfied with the services rendered at all level.

Excellent hospitality by all nurses and proper advice from the doctor. Nursing staffs need to be appreciated.

Confident with doctor's treatment and very thankful for the care he took. Nursing also is excellent- real angels they are! Overall a very well run hospital with courteous staff. Good systems in place. Thank you for taking good care of us and a very comfortable stay. .

Excellent nursing care. All staffs were very polite, cordial and helpful. Also the attitude of the doctors were excellent.

Very good hospital. All staffs and doctors were excellent in caring and treatment. All other department staffs were also good. I liked this hospital atmosphere.

The behaviour of nurses in the ward and doctors were very good. Whenever  we faced difficulties nurses helped to solve it immediately. We expect such services in future also.

The hospital is very clean and well maintained. The quality of treatment and the behaviour of hospital staff is exceptionally good and keep it up.

I am satisfied for caring. Thank you to all staff and doctors in cosmopolitan hospital.

Good care of doctors, nurses, administration etc. Please try to continue and maintain this care. Thank you  !

Very good opinion about the hospital. Especially doctors, sisters and cleaning staff.

Received very good treatment from here

Excellent service by doctors and nursing staff.

Very good hospital services

CCU doctors and nurses are good

Received very good treatment

Received good hospital experience. Attitude of nurses and other staffs were satisfactory

Hospital services are good

Excellent services of doctor and other staffs

Behaviour of the staffs were good

Services provided were good and satisfactory

It was my 2nd anaesthetic surgery here. Because of the good services provided from this hospital, I am preferring this hospital again and again for treatment. I express my sincere thanks to one and all who worked together to cure my disease. God bless to all.

Nursing staffs are very hardworking and dedicated.

Received good services from the hospital

Friendly and efficient care. Thank you!

Very good and most caring

Good response and support from nursing staff.

Staffs were having good behaviour. Thank you!

Excellent service with experienced staff. All staff and nurses were superb, excellent and helpful. Thanks!

Satisfied with everything

Treatment provided was good. Thank you!

We wish to thank all the nursing staff for their exemplary services, caring and response. They were unbelievably kind and professional. Each of the nursing staff and nursing aids made our hospital stay comfortable and helped a speedy recovery.
Cleaning staff were also very regular.

We are satisfied with the services provided here.

Behaviour of nurses were very good and the quality of treatment was also very good. We will come to this hospital for future treatment also. Very good and all the best.

Very good nursing services

Keep the good team work going. Satisfied with hospital administration

Satisfied with the services. Thanks for everything!

"Good service by all departments"

Excellent quality for all services

Good caring, keep it up and we are very happy
Our team of doctors on board, including specialists are equipped with the knowledge and expertise for handling various types of medical cases. Cosmopolitan Hospital is the authorised medical centre for over 27 organisations in the Public Sector, Private Sector and the Government and all major insurance companies. It is one of the largest and best institutions of its kind in the country.